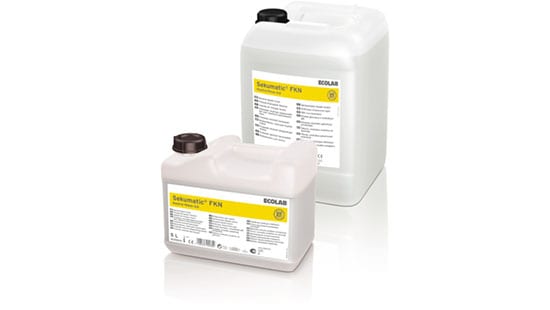 Sekumatic™ FKN
Fluid rinse aid - Neutral. Shortens the drying time and ensures spot-free drying of surfaces of plastic, stainless steel or chromium plated materials. Can be used in bed washers. Meets the requirements of AK-BWA.
Product Details
Can be used in bed washers.
Shortens drying time
Particularly material-compatible
Low dosing
| Our performance | Your advantage |
| --- | --- |
| Reduces the surface tension of water | Shortens the drying time and ensures spot free drying of wash item |
| pH-neutral formulation | Particularly good material compatibility |
| Optimally matched formulation components | Allow a low, particularly economical dosing, toxicologically harmless |
For use in bed and container washers, dosing of about 1-3ml/l after the decontamination phase with Sekumatic™ FDR is recommended.
For drying support and for reducing drying time in cleaning and disinfection devices, dispense 0.3-1ml/l in the last rinsing water.
Sekumatic™ FKN is best matched to the machine cleaning agent from our Sekumatic™ product line.
The program selection is made according to the details provided by the manufacturer. Dosing is done using separate dosing pumps for the machine.
Note: Cracks can form in materials susceptible to stress corrosion cracking. Toxicological reports are available.
Composition
Nicotinic surfactants, solubilizers, corrosion inhibitors
Use (after commencement)
Shelf life

 

In container

 

until the printed expiration date
1
Please note the following to ensure the correct storage of environmental hygiene and instrument disinfectants: The original containers (canisters, buckets or bottles) with the disinfectant concentrate (or powder) should be stored at temperatures below 25°C and kept dry and clean. A brief period below or above the given storage temperature (e.g. during transport) will not diminish the effectiveness.
The containers are to be sealed tightly after each use. Please also take care that the concentrate remaining in the container is not contaminated when preparing the application solution.
Chemical- physical data
Density
20 °C
1.02 g / ml
pH value* (concentrate)
20 °C
approx. 7
pH-value* (solution, 1ml/l in DM-water)
20 °C
approx. 6.9 – 7
* pH-value measurements under operating conditions always by using pH-meter with temperature compensation.
Reduces drying time of instruments and therefore reduces the overall washing cycle time.
In its undiluted form Sekumatic™ FKN is classified and labelled as irritating to the eyes. However, the diluted working solution is not irritating to the eyes and therefore no risk label is required.
Sekumatic™ FKN does not contain any ingredients classified as mutagenic or sensitising.
For stainless drying of surgical instruments, containers, carts and bedframes in washer-disinfectors.
To aid the drying of surgical instruments and other medical instruments dose approximately 1 ml/L in the final rinse water.
In container, cart and bed-frame washer-disinfectors dose 1 – 2 ml/L.
Composed of non-ionic tensides, solubilizing agents and corrosion inhibitors
Density (20°C): 1.02 g/ml
pH-Value (undiluted, 20°C): approx. 7.0
Rinse aid for medical devices


SEE OTHER PRODUCTS FOR DISINFECTION AND CLEANING OF YOUR INSTRUMENTS
Please see below related offerings:
This is a carousel. Use Next and Previous buttons to navigate, or jump to a slide with the slide dots.