Proactive Residue Management for Cleanrooms
Sanitizers and Disinfectants are a required part of any cleanroom contamination control regime, but the use of these products also typically leave behind residues, which can be a cause for concern or further evaluation.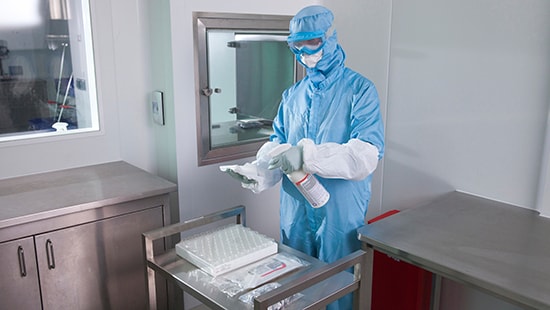 5 Ways Residues May Be Impacting Your Facility
Risk to Product Quality – Residues may be affecting the integrity of materials and or products used in manufacturing areas. Residues left behind on these areas can be a potential contaminant which can put products at risk.
Non-Compliance – Visible residue can be evidence of a lack of adherence to residue management policies or that cleaning and disinfection processes are not in control.
Increased Costs – Residue management can be costly as the need for more frequent rinsing can incur due to residue effects on materials and equipment.
Risk to Employee Health and Safety – Residues can create a hazardous environment if not tended to properly; sticky or slippery floors can lead to trips and falls, and residues can cross-react causing potentially hazardous vapors.
Potential Regulatory Findings – Visible residue can lead to negative regulatory findings, such as FDA 483 warning letters which may cause time consuming and costly regulatory responses to address the issue, risk assessments, and reputation damage.
---
What Do The Regulations Tell Us?
---
Historically, cleaning has been the "residual contaminant" removal step and disinfection has followed, often at times leaving the disinfectant on the surfaces indefinitely. Legacy cleanroom environments were often following the old adage that "visible disinfectant residues on the surface are a preventative measure." But this rationale may be changing. The authors have seen a prolonged and increased concern from regulators over residues left from disinfectants post-application.
Current industry thinking, along with recent compliance mandates, is that any residual chemical is a potential chemical or particulate contaminant to a process and possibly to product. This renewed focus has led a change from legacy thinking to a consideration of how to assess and address disinfectant residues, including an evaluation of what properties other than efficacy, such as residue profile, should be considered for cleaning and disinfectant products.
Both Eudralex Annex 1 and Annex 15 require that a cleaning process should be validated to ensure the removal of residues and any subsequent consequences from them, e.g. the effect on environmental monitoring results or disinfectant, as applied. However, the challenge for any manufacturer is how to accurately quantify residue levels.
---

"The disinfection of cleanrooms is particularly important. They should be cleaned and disinfected thoroughly in accordance with a written programme. For disinfection to be effective, prior cleaning to remove surface contamination should be performed … Cleaning programs should effectively remove disinfectant residues."
– Annex 1
---
Ecolab's Solution for Residues in The Cleanroom
---
Ecolab Life Sciences has developed an innovative method for residue measurement and comparison, including visual appearance, Residue on Evaporation (RoE) and residue accumulation. This three-phase approach clearly demonstrates the differences between different products on both first and multiple further applications.
In order to minimize residues and their build up, Ecolab Life Sciences' Klercide Cleanroom Quat offers cleanroom managers a less disruptive approach to controlling residues as part of the cleaning and disinfection process.
Klercide™ Cleanroom Quat - Blended with WFI
Ecolab Klercide™ Residue Comparison Time Lapse
Case Study
Low Residue Program