Good Food Goes to School
The caterer Uwe Nickut from Burscheid specializes in day care and school meals. Around 10,000 meals leave his kitchen every day. Good food, a high standard of quality and first-class hygiene brings the company constant growth.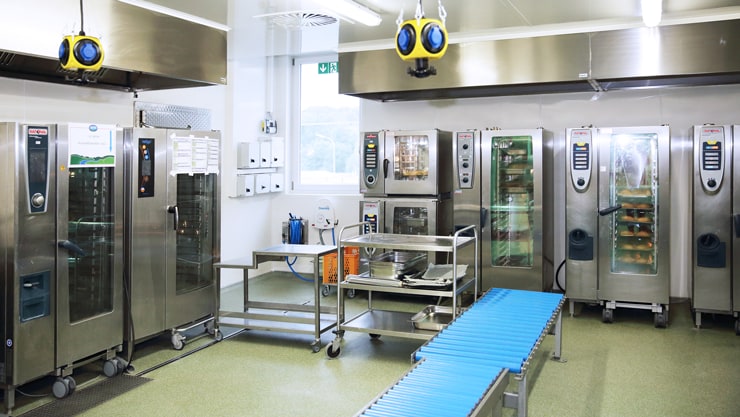 Pumpkin, kale, pears and apples: some of the food that the caterer in the Bergisches Land needs to prepare his meals grows directly on the surrounding fields. Fresh food components and regional and seasonal menu planning are important to the head of the company. "Food must be healthy AND tasty" is Uwe Nickut's motto. Since the beginnings of daily catering in 2007, when he delivered ten meals a day, he wants to show that school and community catering can be much better than its reputation. This quest for quality has not only earned him a number of awards, but has also steadily expanded his customer base.  
Today, the caterer's kitchen staff produce 10,000 meals a day, which are delivered to 100 kindergartens, daycare centers and schools within a radius of 30 kilometers. "We don't want a larger radius, otherwise quality suffers," says Nickut. Not only the food itself, but also the hygiene is very demanding. "In addition to a balanced diet, compliance with hygiene regulations is our top priority. The food must not make the children ill," emphasizes Sarah Steinbusch, who is also responsible for hygiene management as the house's ecotrophologist.  
Since 2017 the school caterer has been using Ecolab cleaning products in his operations. "The products are used in our kitchens for cleaning the surroundings, washing dishes and cleaning hands," explains Sarah Steinbusch. In the central production scullery, tools, thermo boxes and Gastronorm containers are mainly cleaned. In 2017 the employees have started working with the Apex system. The system ensures good cleaning results and helps with documentation. "I also like the fact that it is self-explanatory thanks to the color-coded block cleaning agents. These simplify handling and rule out user errors," says the ecotrophologist.  
The company boss himself appreciates not only the effectiveness of the cleaning products, but also the services of the hygiene specialist. "We are very well looked after by Ecolab. Our technical advisor also helps when we have a problem," says Uwe Nickut. Ecolab's training courses also ensure safe working conditions in the kitchen. "We used to train our staff ourselves, but now Ecolab employees do. They not only train the employees in our production plant, but also our employees in the local refectories. This relieves the workload and gives room for new tasks. For example, in the area of catering for the elderly, in which the caterer has been new since October 2017. 
About Nickut Catering GmbH
Additional Spektrum Articles